Thousands gather in Sydney in last ditch effort to stop abortion bill
"There was almost a celebratory tone at tonight's 'Stand for life' protest in Sydney's Martin Place, with protesters buoyed by what they called a show of unity amongst Christians against abortion.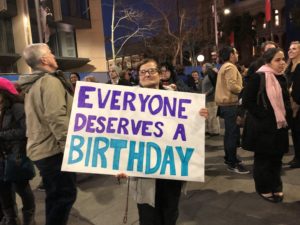 Protesters were standing against legislation to decriminalise abortion currently under debate in NSW Parliament. The bill passed the NSW lower house earlier this month. NSW Premier Gladys Berejiklian decided this afternoon to delay the vote in the upper house until after parliament resumed sitting (mid-September at the earliest).
Armed with protest signs declaring "Love Mum, Love Bub" and "everyone deserves a birthday", the 2500 to 3000-strong, markedly young crowd chanted "stand for life", "no to abortion, yes to life", "love them both" and "We are the pro-life generation".
Before the long list of speakers began, a young MC pumped up the crowd."
LifeFM Bendigo is proudly supported by:

Click here for the full article